Nerf Now!! 1351 - 1360
Nerf Now!! 1351
Well, I won't say Twitch / Google doesn't have the right to do whatever they want on their free streaming service but if you are an user of the service, you obviously won't need to approve and enjoy the change.
Still, what complaining will do? Internet rage changes nothing when people still log on the service anyway. In the end, unless people start using other service there is no reason for Twitch to change.
Nerf Now!! 1354
Civ IV for me is the definite version of Civlization. The game as lots of small details which make it look like they really wanted to make an awesome game instead of just a profitable product.
Example: When you build a World Wonder, there is this little CGI move showing the wonder being build. There was no need to make it, they could just put a picture of it like Civ V and it won't really affect the sales.
Why they went the extra mile? Because, in my mind, they cared. The game is full of this kind of small details. Civ V looks bare for me in comparision.
Nerf Now!! 1355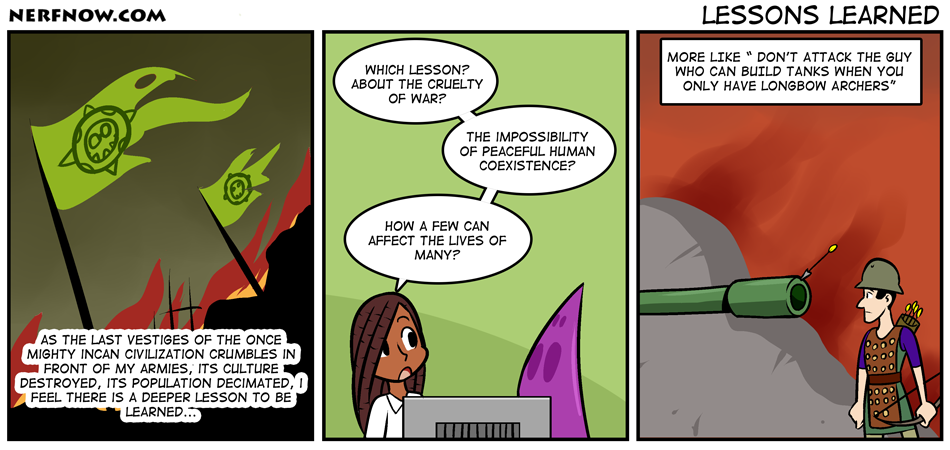 I feel bad for Montezuma, he is slave of his coding. He can't resist the urge to attack other civilizations even when chances of victory are small.
And after he loses because you have fortified riflemen already, he falls because either you crush him with tanks or his underveloped civilization will lag behind technologicaly and culturaly, eventually being absorved.
Why can't we be friends Montetsuntsun-ma?
Nerf Now!! 1356
Nerf Now!! 1358
I don't think many teams will survive intact after T4. The time after a International is a time for retirements and opportunities. Teams try to think «what went wrong» and new blood is seen many times as the solution.
Any team who survive intact will at least have a temporary edge while the other teams adapt to their new roster.
Nerf Now!! 1359
Nerf Now!! 1360