Nerf Now!! 1341 - 1350
Nerf Now!! 1341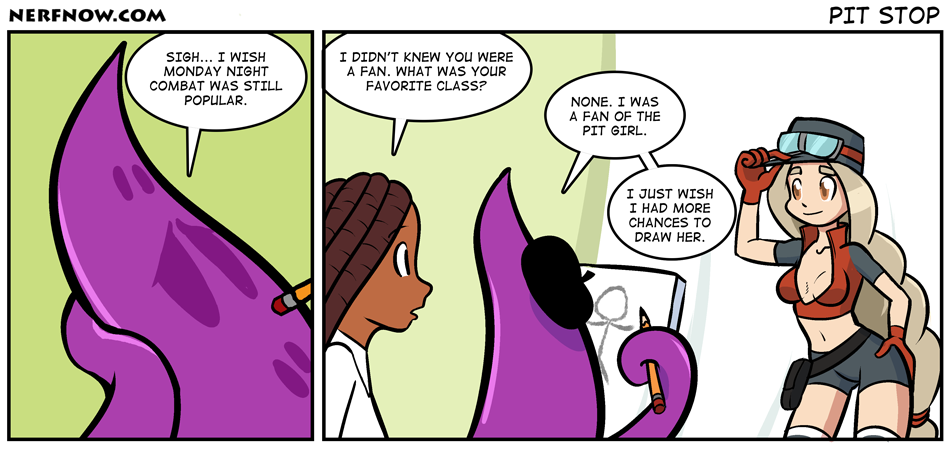 If I was a console player, I'd be all over Monday Night Combat when it was released, but it arrived on PC late (it was a Xbox Live game) and at this point TF2 was going at full force with nice updates.
Both games were too similar and I end up sticking to the one I knew, it's a pity, really, because I think MNC was a good game.
Nerf Now!! 1342
I'm fairly sure at some point, the whole movie idea was abandoned and what we are seeing now is basically a new movie.
I think the focus on «warcraft» instead of «world of warcraft» may signal a change about making it less about the MMORPG, more about the universe.
The game may be horrible or be amazing, but the photo of the logo is the 1st sign I had the movie is actually being made.
Nerf Now!! 1343
Once upon a time, games were about reaching the end of the stage, stomp some critters, sometimes with a princess in the end.
Now every game has it's own in-game leveling system apart from the game itself. There is always something demanding your attention: one more level, one more achievement, one more tier of digital glory to be conquered and forgotten the next minute.
I'm glad I'm not the completionist kind of guy, because would be frustating to get 100% of everything on every game out there.
Nerf Now!! 1345
Nerf Now!! 1346
Nerf Now!! 1348
Nerf Now!! 1350